Getting taken advantage of isn't hard to do when purchasing auto repairs and service. One of my favorite stories is of a tire man that told me that I needed a new front wheel bearing hub before he could align the front end on my car. He didn't know that the bearing hub had less than 15,000 miles on it.
The tire man also didn't count on the possibility that I was the person that installed the bearing hub and, thus, would install the next one, if needed. The short story is that I wasted some time taking the car apart only to end up putting it back together with original bearing hub. The new bearing hub that I purchased from the auto parts store was returned for a refund. Four years later, I'm still running the bearing hub that the tire man said was worn out.
I should mention, also, that my five years of customer loyalty ended with that tire dealership. It is because of experience like this that I try to do most my own auto repairs. There are some things that I can't do but, most of what I may not know exactly how to do, I can figure out.
The old Dodge Dakota had a leak yesterday on the upper radiator hose. I checked Rock Auto, an online supplier, which I often use for parts purchases. I also checked availability and price at one of the local discount auto parts chains. Rock Auto was, by far, the best value.
The price of both an upper and lower radiator hose, complete with shipping costs, was less than $30 at Rock Auto. The local discount store, on the other hand, wanted $40 for only an upper radiator hose. I decided to check with NAPA in the morning.
NAPA is often pricier than other auto suppliers but three things make them a good resource. First, their counter help is generally very knowledgeable and, thus, very helpful. Second, a lot of customers don't know but NAPA will haggle down sometimes to keep you from going to the competition. Last, their parts are always of the best quality in the market.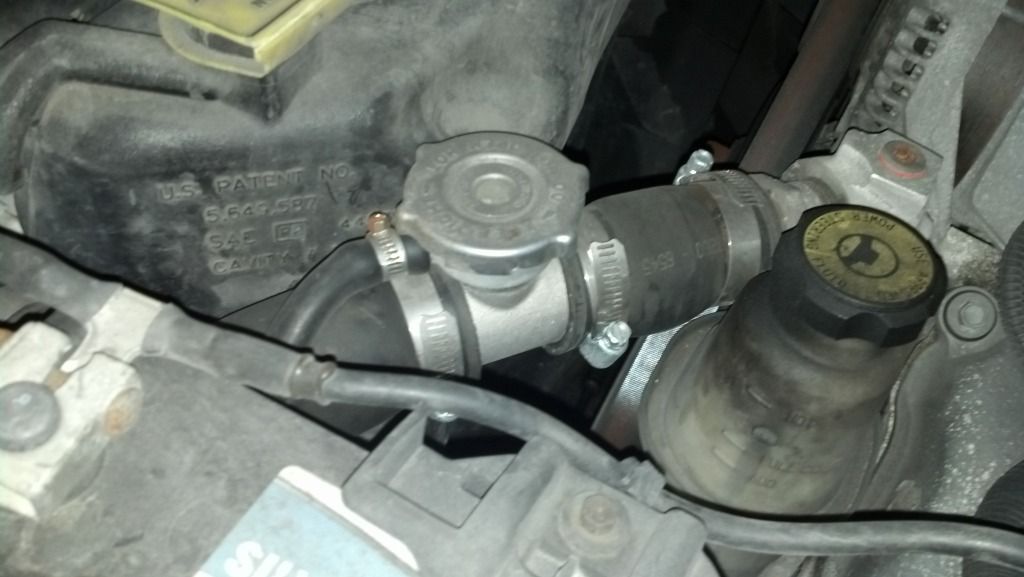 I gave the counter person make, model, year and engine size of the Dakota and told him what part that I needed. This is a good example of why I like NAPA. The upper radiator hose for this model of Dakota consists of two hose pieces and a plastic fitting that can each be purchased separately or as an assembly. Before he gave me an availability and price quote he confirmed that I wanted the whole assembly.
The man quoted $32 for the hose assembly. I looked down at floor and hesitated. When I looked back at him I quoted my online price of $27 for both upper and lower radiator hoses.
"Yes, but then you have to pay shipping," he countered.
"No Sir. That includes shipping."
"Yes, but are you getting the whole hose assembly?"
"I wasn't going to let you sell me only part of the set and I'm not going let Rock Auto sell me less than the full assembly either."
Though man was polite he hadn't yet ran out of "yes, buts."
"Yes, but how long will it last?"
"Well," I said, "it's of the Goodyear brand, which doesn't mean that it wasn't made by slave labor in a third world country, but there are still Goodyear standards to be maintained. What's more, the present hose is original equipment and has lasted over 180,000 miles. If I can get half of that out of the new hose then it might outlast the engine."
There is a time to talk and a time to shut up. I said no more but hesitated in a half turn toward the exit. I was holding out for him to drop the price, at least, a little. The man turned his computer screen toward me.
"You see. This is the price." He pointed to the $32. What he didn't point to, but I saw clearly, was $44 in the next column.
Okay, so he had already discounted the price. I hesitated another moment. Meanwhile, another customer had stepped to the counter. The man turned the screen back. It was time to decide if it was a deal or no deal?
"I'll take it."
"You'll take it?" As if he wasn't clear, he had to confirm. Maybe I had been more convincing than I thought that I might walk out.
There was a possibility that I might be able to tease the problem along for few days while I waited on Rock Auto to ship the lower cost hose assembly. Then again, a cooked engine would be a high price to pay for saving a few dollars on parts.
When I got home I let the Dakota set for a couple of hours to cool before I changed the hose assembly. I topped off the cooling system with water instead of coolant. A short drive confirmed that the leak was repaired. I'll flush and refill the system with the proper concentration of coolant soon when I install the replacements for the other old hoses.
I ordered the lower radiator hose and a new set of heater hoses from Rock Auto. I really should have changed all of the hoses some time back as they deteriorate over time. Then I wouldn't have been trying to haggle for a few dollars with NAPA. It's better to change old hoses before they wear out and strand you somewhere. After all, the Dakota is ten years old and a high mileage vehicle.
When I get the new hoses installed then maybe a mechanic or tire man will tell me that they're worn out.